Inside One of the Largest Apprentice Programs in IT
Every year, BlueCross BlueShield of South Carolina welcomes college graduates to its apprenticeship program. This program trains them in several areas of information technology (IT) before they move into permanent roles at BlueCross.
Every May, the Entry-Level Training Program (ELTP) hires graduates from the following programs:
Computer science.
Math.
IT.
ELTP hires come to BlueCross as employees with full benefits from the start.
More than 600 employees have come through the program since 1997. It was one of the first IT apprenticeship programs in the country. It continues to be one of the largest. This year, the program will hire 51 new employees.
"The purpose of the program is to build a pipeline of people to take the place of employees who will one day retire. These young professionals will grow from junior level to mid-level. We hope they will eventually fill technical leadership roles at the company," says James Taylor, a senior IT leadership development consultant who manages the program.
Participants spend the first few months in a classroom focusing on the following:
Application development.
Systems support.
Network infrastructure and security.
Next year, the company plans to add a track focused on project management.
"The coursework is a little bit of everything that would help them figure out the organization, their jobs and how they want their careers to look moving forward," Taylor says.
Participants then go to work in the area that hired them for on-the-job training. The apprenticeship stage lasts from 42 to 48 months.
"We continue working with them and their management for five years to make sure they like their jobs and listen to their feedback on the program," Taylor says. "We want them to stay here."
Many ELTP participants continue to grow through professional development into a variety of positions at the company.
"It is very much the beginning of a career," Taylor says. "This is not a job. This is a career. We are going to invest in you. We want you to make BlueCross your home."
Jelani Allen came into ELTP in 2016 after graduating from North Carolina State University. The training attracted him to BlueCross.
"When I interviewed, they told me there were multiple areas to learn, and I could choose my own path. It seemed like BlueCross valued me," Allen says.
Allen calls the program a "beautiful struggle" because of his background in computer engineering.
"I didn't have as much experience with the app development and the programming sides. I was more focused on hardware soldering circuits, so it was an opportunity for me to learn coding," he says. "It was challenging, but I really enjoyed the team experience. I grew so much."
Cohorts also set the ELTP apart. Other programs bring on just a couple new hires each year. The trainees who come through the BlueCross program are members of a group.
"The chance to grow and connect with the future leaders of the organization in a cohort is powerful," Allen says.
For BlueCross, it is a valuable way to welcome new talent. Ten years ago, the company started an intern program. This program introduces college students to the company and its hiring opportunities, including the ELTP.
"It's a commitment this company has made that a lot of other organizations can't or won't make to new people coming in," Taylor says. "Participants are building connections across the company through the class. And that pays off in how long people stay with the company. They see that BlueCross focuses on people and people's careers, not just getting the work done on a daily basis."
Meet Our BlueScholars

The BlueScholars program offers select freshmen from Benedict College and Claflin University a four-year scholarship to cover tuition, room and board. Students can attend career development workshops and take part in summer internships at BlueCross BlueShield of South Carolina. The goal is to give students an education while getting a head start on their careers.

Read More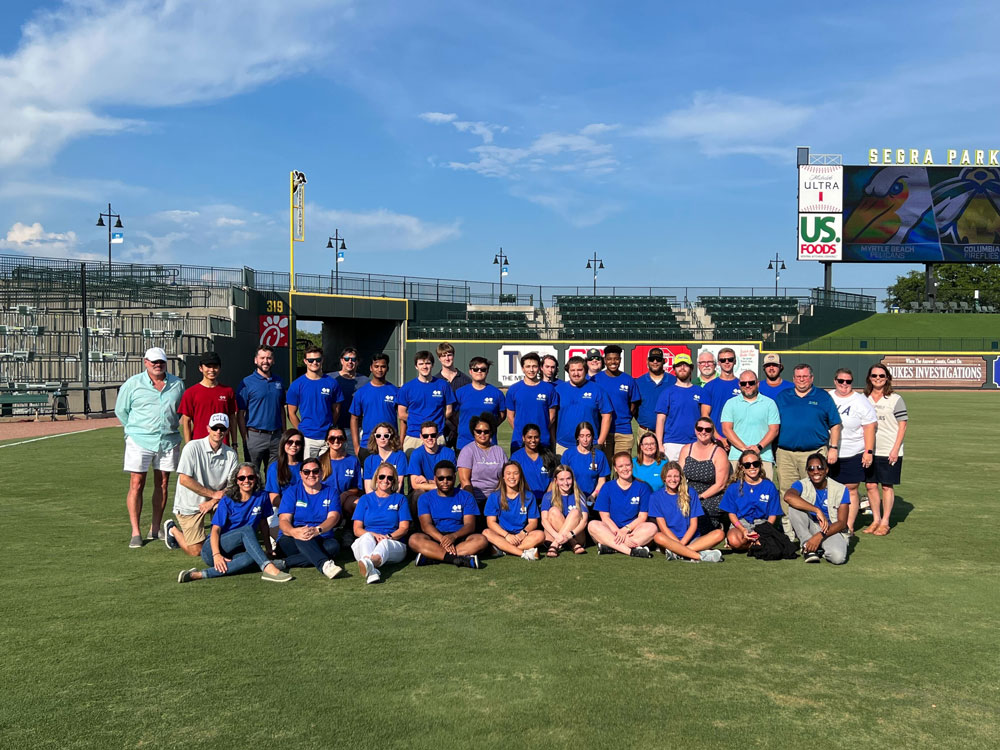 They Interned Last Summer. Here's Why They Came Back for a Second Year.

Every year BlueCross welcomes a new class of interns for a summer of hands-on experience in various fields across the company. Interns join us from colleges across the Southeast. This year, several interns returned for a second summer. We asked these dedicated students to share their experiences and why they chose to return to BlueCross.

Read More
A Career in Technology at BlueCross

BlueCross is more than just an insurance company. It is also one of the largest technology companies in the Southeast. One of our longtime employees Jamie Evermann shares what it is like to work in technology here.

Read More