5 Questions With Transitions Homeless Center
Homelessness and housing instability are growing problems in South Carolina. Community organizations, like Transitions Homeless Center in Columbia, make a big difference for people struggling with homelessness. Last year, the organization helped 3,139 people.
BlueCross BlueShield of South Carolina supports Transitions through employee giving campaigns and other efforts. The BlueCross BlueShield of South Carolina Foundation has funded grants for the program, and BlueCross leaders serve on the Transitions board.
"One of the things I talk about so often is how close people are — even your own coworkers — to the circumstances that often afflict those who are now homeless. For many people, it was just one bad event in their lives that pushed them over the edge. Transitions tries to give them that opportunity to get their lives back on track," says David Cote, vice president of Human Resources at BlueCross and chair of the board of directors for Transitions.
Craig Currey, chief executive officer for Transitions, shares more about what the organization does in the community and how others can get involved.
What does Transitions do in Columbia?
Transitions Homeless Center provides 260 beds to the community every night for homeless people. It also offers a place for people to come just for the day. About 330 people come to Transitions every day for help. No one else in the Midlands offers both residential and day services to homeless adults, both men and women.
What is the No. 1 thing you want people to know about Transitions?
It is critical to the city of Columbia and the Midlands to have a place for homeless people to go during the day and spend the night. People struggling with homelessness need services to get out of that situation. Transitions has helped more than 3,300 people into permanent housing since we opened in 2011.
What is your biggest priority or goal for this year?
Our top goal for 2023 is to open our new facility at Dutch Square. It will be single-unit apartments for older adults with disabilities. It will include adult day care.
What is a common misunderstanding about homelessness?
A common misunderstanding is that people struggling with homelessness don't want to work. About 30 percent of the people we serve get jobs. Many others have disabilities and cannot work. Others need to get employed to earn money for rent. Our jobs case manager works with clients to help them find work.
How can others get involved or help your mission?
People can volunteer to serve a meal or help at our facilities. They can serve at our library, the computer lab or the day center. They can also donate to our efforts through our website.
The BlueCross BlueShield of South Carolina Foundation is an independent licensee of the Blue Cross Blue Shield Association.
12 Ways BlueCross Gave Back This Year

Every year BlueCross BlueShield of South Carolina and its employees give back through donations and volunteering efforts across the state. This year employees served almost 20,000 hours. Looking back on the year, we share just a few ways the company gave back in 2022.

Read More
5 Questions With Voorhees University

In 2020 BlueCross made a commitment to the state's six private, four-year historically Black colleges and universities. Voorhees College in Denmark recently added graduate programs and became a university. The head of the college's advancement office shares how the school is changing.

Read More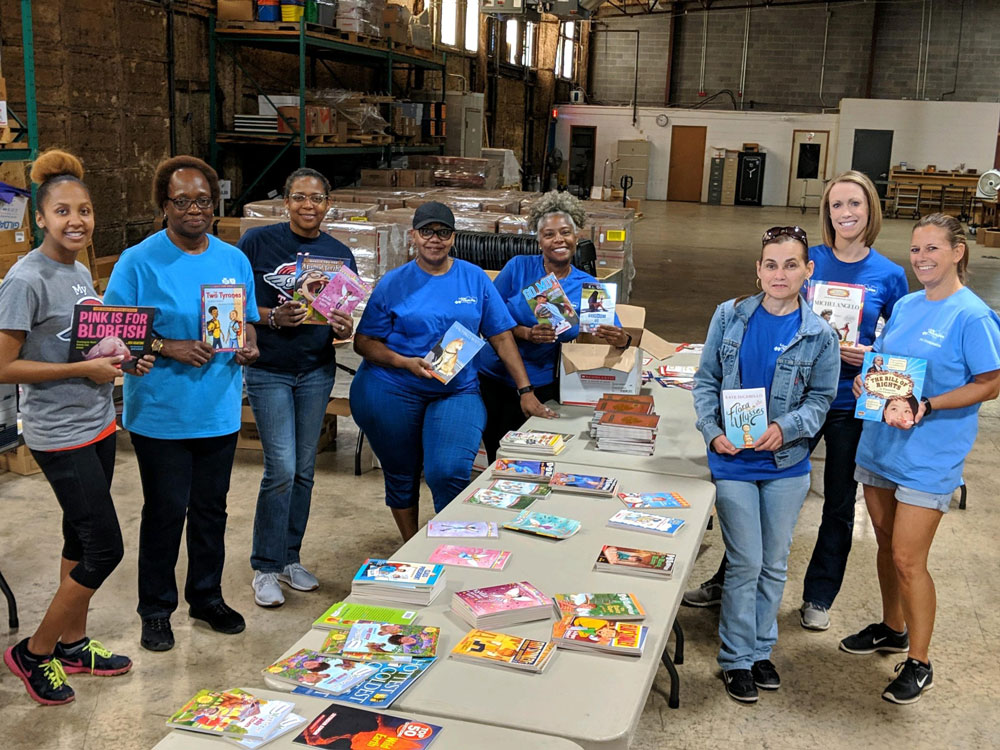 BlueCross Employees To Give Back on Day of Service

In 2019, BlueCross BlueShield of South Carolina hosted its first Day of Service for employees. BlueCross suspended the program the next two years due to COVID-19, but this year, the company is excited to bring the program back. BlueCross' community relations director discusses the program.

Read More