19 Ways BlueCross Gave Back in 2019
Every year, BlueCross BlueShield of South Carolina and its employees emphasize giving back to South Carolina. Investing in the communities the company serves is an integral part of what it does. Being a good corporate citizen is embodied in the work BlueCross does in the community, and its employees are committed to doing the same.
Sometimes this is seen in donations and other times it is hours of volunteer work. This year, the company also worked with local nonprofits by supporting social enterprise projects, another way of helping these organizations do good in their communities. Every year the BlueCross BlueShield of South Carolina Foundation supports projects that aim to promote the health of South Carolinians and to increase access to health care for the economically disadvantaged.
Employees donate countless hours to local groups serving South Carolina, but here is a quick look at some of the good BlueCross and its employees have done for the state in 2019.
1. Food for the Community
Employees donated 8,000 pounds of food to Harvest Hope Food Bank. That equals 32,094 meals. Since 2005, BlueCross employees have provided almost 500,000 meals to this local nonprofit. Meals feed hungry families across the Midlands.
2. Supporting Research
Employees donated $27,691 to the American Heart Association (AHA) to continue research and advocacy to improve the health of South Carolinians. The AHA is dedicated to fighting heart disease and stroke. The AHA is an independent organization that provides health care information you may find helpful.
3. Helping Residents in Need
When a Midlands apartment complex was evacuated because of a gas leak, BlueCross responded by donating $15,000 to aid the displaced residents. The company also gave up to $5,000 to match donations from the community. All funds went to the United Way of the Midlands to be administered by The Salvation Army of the Midlands. Employees also joined the efforts to help the residents. About 32 employees volunteered to plate, package and deliver food that was donated and prepared by BlueCross' food services department.
4. Day of Service
This year also marked the company's first Fearless Day of Service, a statewide day of volunteering. Overall, more than 320 employees logged 1,300 hours of volunteer work for 28 organizations.
5. Feeding Kids During Summer Break
During the summer, when many kids miss meals because school is out, BlueCross' food service department donated and delivered lunches to Richland County School District 2 for its summer camps for at-risk youth.
6. The Gift of Life
Employees donated more than 400 units of blood to the American Red Cross in 2019. Every two seconds someone in the U.S. needs blood. One donation can potentially save three lives.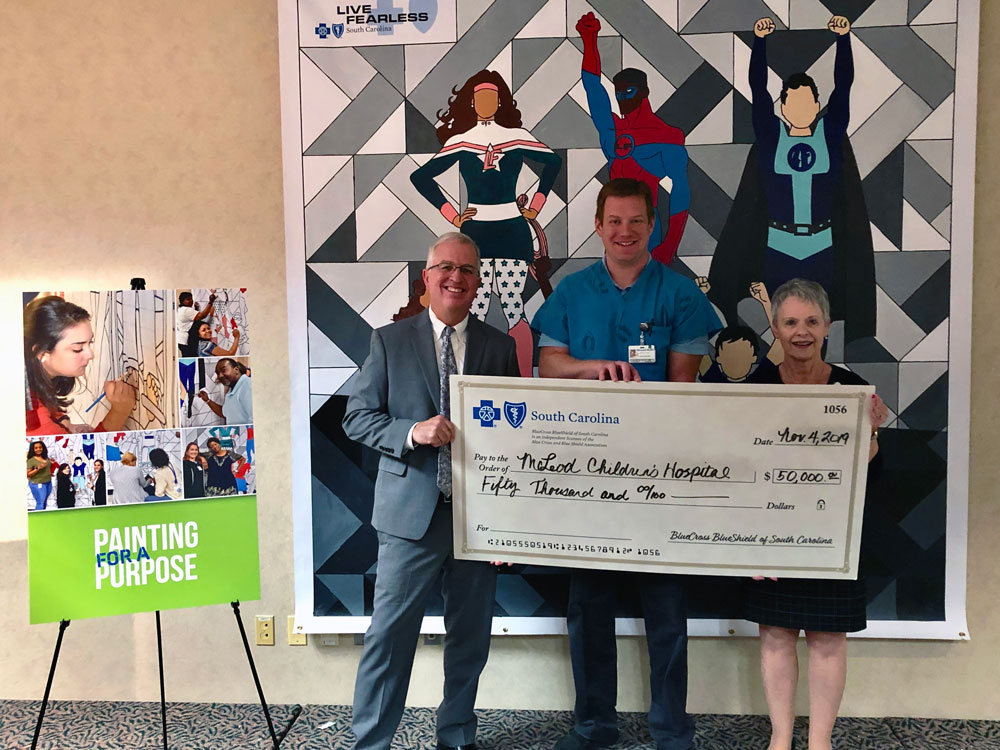 7. Painting for a Purpose
BlueCross proudly presented a check for $50,000 and a new Live Fearless mural to the McLeod Health Children's Hospital in Florence. Funding will help support care for some of the hospital's most vulnerable patients: infants suffering from neonatal abstinence syndrome, a condition that occurs when babies are born to mothers who have opioid use disorder issues. The mural was created by BlueCross employee Laura Hernandez and painted by more than 200 employees. It depicts the strength children have when they're in the hospital or dealing with an illness.
8. Helping Others Get to Work
BlueCross Human Resources department works with community organizations like the Commission for the Blind, able-SC, the South Carolina Vocational Rehabilitation Department and Work in Progress, to name a few, to support the organizations' employment efforts. During National Disability Employment Awareness Month, the department joined the annual Hire Me SC Employer Summit, which brings together employers in the state to give businesses tools and knowledge to hire people with disabilities.
9. Working for Warriors
Each November BlueCross supports an organization that works with veterans as a part of its recognition of veterans. This year the company selected the Warriors' Walk unit of the Dorn Veterans Administration Medical Center. BlueCross employees donated more than 80 boxes of items to the organization. Warriors' Walk is the hospice/palliative care unit of the Community Living Center, the veteran's nursing home. Warriors' Walk provides family support, symptom control and end-of-life care for veterans who choose not to have aggressive treatment and who have a life expectancy of six months or less.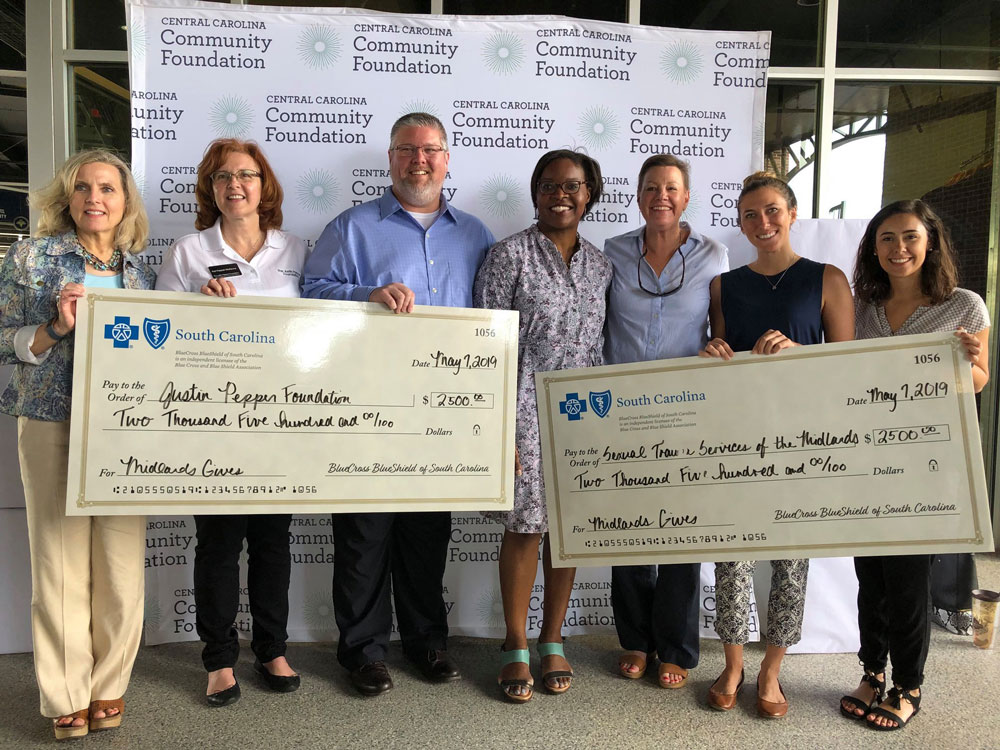 10. Coming Together for Causes
During Midlands Gives, an 18-hour online giving event organized by Central Carolina Community Foundation to raise awareness and money for local nonprofits, BlueCross joined the record-breaking year with two donations of $2,500 to Sexual Trauma Services of the Midlands and The Justin Pepper Foundation. BlueCross has donated to the efforts since 2016.
11. Promoting Tech in SC
BlueCross partnered with the South Carolina Council on Competitiveness for its new industry initiative, TechSC. The initiative aims to accelerate growth of and innovation in technology and cybersecurity firms and to expand the talent pipeline in the sector in South Carolina. "Technology is at the heart of our business and we have made a commitment to foster innovation that improves health and well-being in South Carolina. Our partnership with the Council and its TechSC initiative underlines our commitment to innovation in the state and we're glad to be a part of driving its mission forward," says President and CEO David Pankau.
12. Supporting Job Programs
Employees brought in donations for both The Salvation Army's Family Store and Goodwill Industries. About 10,000 pounds of textiles and housewares were donated to Goodwill Industries of Upstate/Midlands South Carolina. Through the sales of these gently used items at Goodwill stores, the organization can support South Carolinians in its industry-specific job training programs. The BlueCross donation could cover the cost of providing 677 hours of resume help or job placement assistance to participants in the organization's 18-country region. These programs have a significant impact on the lives of the people who access them. BlueCross has supported The Salvation Army for more than 20 years.
13. Breaking the Stigma
After the suicide of her daughter, Tiera, BlueCross employee Jenny Morales made it her mission to erase the stigma around mental health issues. Morales is embracing the company's motto to "Live Fearless" by advocating for the importance of communication among teens. She also started a scholarship in Tiera's name.
14. Cones for a Cause
BlueCross supported the Epworth Children's Home in several ways this year. Epworth Ice Cream Co., a new business venture from Friends of Epworth that donates all profits to the children's home, sold 753 pints of ice cream to employees, raising $5,518. The Foundation also awarded a grant to Epworth to expand its services to provide individual, couples and family counseling through a new child and family counseling center. The grant will establish the Epworth Center for Child and Family Counseling in Columbia in 2019, with other locations opening in the Pee Dee, the Lowcountry and other regions of the state later. Epworth Children's Home provides traditional residential services, foster families, early childhood intervention, family care and preservation, and independent living programs throughout South Carolina.
15. Getting Kids to Play
BlueCross and The Greenville Drive teamed up to give fearless kids a new place to play with the new Live Fearless playground at Fluor Field in downtown Greenville.
16. Improving Health Across SC
The Foundation expanded its reach across South Carolina. This year the Foundation supported a new nine-hole disc golf course in Williston in Barnwell County to give residents a new healthy outdoor activity. It also supported a new organic garden in Orangeburg, to help address hunger in the community. The Growing Cob Community Garden on the campus of South Carolina State University is managed by students and community members. The garden's fruits and vegetables have fed more than a hundred residents.
17. Doing Good
During Taco Tuesday, BlueCross employees purchased $2,037 worth of tacos to support Senior Resources. The funds from the event will feed one senior for a full year through the Meals on Wheels program.
18. Making Holidays Brighter
Employees closed out 2019 by joining Families Helping Families during the holiday season. Over the last six years, more than 1,200 employees have adopted 1,083 families. In 2019, employees adopted more than 215 families. A group of 24 employees also volunteered at WIS-TV answering phones as more South Carolinians called to adopt families through the organization.
19. Breaking Records
As if they didn't do enough this year, employees stepped up during the company's annual United Way campaign, raising a record-setting $2,860,510, exceeding the corporate goal. The company had 63 percent of employees give to the campaign. Since 1994, employees have given more than $30 million to the United Way of the Midlands. Funds support the nonprofit's continued fight for improved health, education and financial stability for everyone in the Midlands.
As a new decade begins, one thing is clearly going to stay the same. BlueCross and its employees will keep investing in South Carolina and the communities it serves.
Giving Back in Every Way Possible

BlueCross supports several local social enterprise projects that hope to increase donations to support their causes.

Read More
BlueCross VP Serves as Voice for Children in Need

Kim Wellman is a voice for children in Lexington County's Volunteer Guardian Ad Litem program, serving as a voice of a child who has been abused or neglected.

Read More
BlueCross Supports Disability Employment Awareness Month

This October, for National Disability Employment Awareness Month, BlueCross joins community partners to dispel myths about disabilities.

Read More
Other Posts That May Be of Interest: