5 Questions With Charleston Parks Conservancy
Charleston is one of South Carolina's most recognizable cities and a top tourist destination in the Southeast. From the Battery to the beaches, there's plenty to see and do around the city, including its pristine parks.
The Charleston Parks Conservancy, a private nonprofit that helps maintain the city's parks, creates community programming to get people outside and into the parks. The organization stewards more than 20 parks in Charleston. There are 120 parks in the city.
We caught up with Samantha Scott, corporate relations manager for the Charleston Parks Conservancy, to talk about the organization's work in the city and how more people can take advantage of Charleston's natural resources.
Tell us a little about the Charleston Parks Conservancy.
We are a nonprofit that stewards and advocates for the city's urban and suburban parks. Since our founding in 2007, we have helped rejuvenate, redesign and expand city parks. We work with the city's Parks Department. We manage community programming to bring people into the parks through concert series, movie nights, Sunday brunches and family picnics. During the pandemic, we have encouraged people to use the parks for exercise and outside gathering spaces.
What does the future look like for the Charleston Parks Conservancy?
We are planning to fully reopen in the fall with more community-centered events. Our big focus will be on getting people connected to our green spaces and expanding our reach in the community. In the future, we will also expand our scope and add more community gardens.
Another strategic focus for us is reshaping the industry. We are in the early stages of developing a workforce equity program where we help students from underserved backgrounds go into the field. There's not a lot of people of color in the industry. We are hoping to bring more women and people of color into the field by connecting more people to the parks through education.
How has BlueCross BlueShield of South Carolina helped the conservancy?
BlueCross helped with our Grow It Forward program, which is our community garden. We didn't have enough tools for our harvest, and BlueCross helped with that. During the pandemic, we have been able to continue to supply fresh food for people in need. We supply nine different food insecurity pantries with fresh, organic food. The program started in 2014. We have donated 17,000 pounds of food that has benefitted more than 2,000 people.
How has the pandemic impacted the work you do?
We rely heavily on a lot of volunteers. We normally have around 600 people who volunteer with us each year. We have been working to make sure our volunteers are safe, and working in the parks has been a struggle. We have four people who work on our horticulture staff, and they can't maintain 20 parks by themselves. We usually have about 10 or 12 volunteers each week watering, pruning, weeding and helping us plant. We are one of the few conservancies that allow our volunteers to help plant our vegetation. Many of our lead volunteers stepped up and worked longer hours this year to make sure the parks were maintained.
What's your favorite park?
Hampton Park, which is part of Wagner Terrace. It is near the Citadel. It's hidden in this neighborhood. I just love the fact that you kind of forget that you're in Charleston. It can feel secluded, quiet and peaceful.
Promoting Philanthropy in the Midlands

Each year, BlueCross encourages employees to participate in Midlands Gives. The goal of the event is to raise awareness for nonprofits across the 11 Midlands counties. Midlands Gives enables everyone in the community to take on the role of a philanthropist. Congratulations to this year's winners of the Board Leadership Prize.

Read More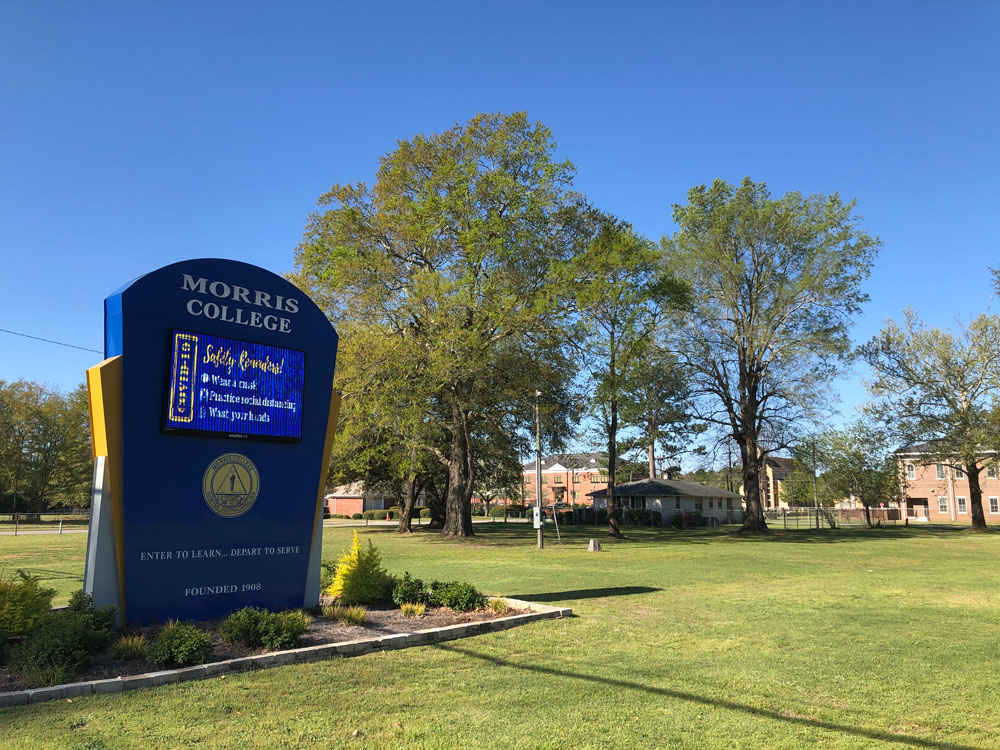 Funding Helps Student Stay On Track

The last year has been difficult for a lot of South Carolinians. It is particularly true for one nontraditional Morris College student who found a little help thanks to BlueCross. As an older, nontraditional student she was working, attending classes and taking care of her family. With just a few months left before she finishes her degree program, she was struggling to make ends meet and pay her mortgage.

Read More
Sharing Untold Stories

Gadsden's Wharf in Charleston Harbor has many stories to tell. Once a major port for ships transporting slaves from Africa, the site played a key role in one of the most shameful chapters in American history. It will soon be home to a museum that will celebrate African American history, culture and global impact.

Read More