Funding Helps Student Stay on Track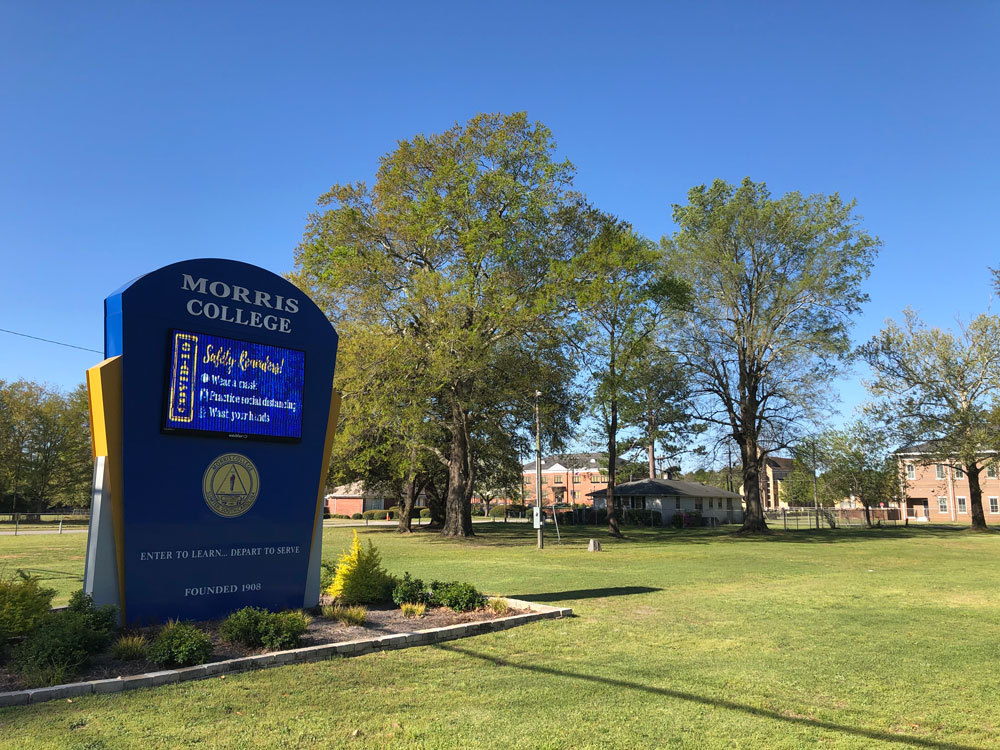 The last year has been difficult for a lot of South Carolinians. It is particularly true for one nontraditional Morris College student who found a little help thanks to BlueCross BlueShield of South Carolina.
A student, who opted to remain anonymous to maintain privacy, found herself in a situation she never could have imagined. She was studying organizational management at Sumter's Morris College, a historically black liberal arts college, when she contracted COVID-19. Her entire family had to quarantine at home for two weeks, as recommended by the Centers for Disease Control and Prevention. This meant missed wages for her husband for at least three weeks.
As an older, nontraditional student she was working, attending classes and taking care of her family. With just a few months left before she finishes her degree program, she was struggling to make ends meet and pay her mortgage.
"I'll say this, God has been amazing. He was truly amazing at that time," she says. "I was in a pickle. I had a lot going on and the funds from the college were the best thing for me. We barely had food. I was behind on bills. I was trying to keep us afloat all by myself."
The family had just purchased their home a few months earlier, but the pandemic had made it more difficult to pay for it.
"To get a house that I've been working for all my life, and to get behind in the mortgage hurt because I worked so hard to get there," she says.
She was depressed and unsure how to get out the situation. Then she saw a sign for help around the college.
In August, BlueCross announced its commitment to funding the state's six, private four-year Historically Black Colleges and Universities (HBCUs) to help with financial needs to ensure sustainability and assist in getting as many students as possible to begin or continue their education with these institutions.
"We were so honored to support several HBCUs last fall. Despite embarking on a school year faced with uncertainty due to the COVID-19 pandemic, our assistance allowed the colleges and universities to focus on welcoming students, faculty and staff back safely," said Elizabeth Nkuo Johnson, community relations director at BlueCross.
Part of the funding was set aside to help students struggling financially, return to school, as well as help with living expenses.
"When I saw that flyer, at first I said well that isn't for me because I'm a grown woman. But I called and the college said they could help," she says. "When I spoke with other nontraditional students in my program, we were all going through the same thing, maybe not as much or not in the same situation, but we were all struggling. We're grown women, and we have grown women bills."
Now a few months short of finishing her degree program, she is doing much better. Her husband found a new job. She's making ends meet, and she's still in her house. With a little less stress on her finances, she can focus on her studies, write her capstone paper and plan a post-graduation job hunt.
"I'm very thankful that this help came right on time. It was truly a blessing. It feels like there is a light at the end of the tunnel," she says.
"To advance communities, we all need access to good education and employment in great jobs. We are proud that the support we provided to Morris College, played a significant role in helping this student and others continue their journey of fulfilling their college education," says Nkuo Johnson.
Sharing Untold Stories

Gadsden's Wharf in Charleston Harbor has many stories to tell. Once a major port for ships transporting slaves from Africa, the site played a key role in one of the most shameful chapters in American history. It will soon be home to a museum that will celebrate African American history, culture and global impact.

Read More
20 Ways BlueCross Gave Back in 2020

This year has been full of "unprecedented times" and an "abundance of caution." While most aspects of our daily lives changed when the pandemic began, BlueCross BlueShield of South Carolina has continued to support the communities it serves. Here's how BlueCross and its employees invested in South Carolina in 2020.

Read More
Volunteering Changes Lives

This October, BlueCross focuses on thanking its employee volunteers who give so much all year. Susan Forrest, a community relations specialist, has been volunteering for as long as she can remember.

Read More