5 Things To Add To Your South Carolina 2021 Bucket List
There are plenty of benefits to living in South Carolina — the temperate climate and the beautiful natural resources chief among them.
Milo Anderson, an Experience Columbia ambassador and creator of Milo's Wildlife, an online guide for wild travels, knows how to explore his own backyard. As you make your New Year's resolutions or 2021 bucket list, here are few of his favorite places in the state to add to your list.
1. Take a stroll on Congaree National Park's boardwalk loop.
Congaree National Park is South Carolina's only national park, located just outside Columbia.
"South Carolinians are pretty lucky to live in a state that is home to a national park, making us one of only 29 states with this claim to fame," he says.
Anderson recommends taking the boardwalk loop, the most popular trail at the park. It is wheelchair and stroller accessible and has plenty of benches along the way. At 2.4 miles, this stroll is the best introduction to the park's unique ecosystem.
It's a beautiful place to visit any time of year, but the most popular time to visit is during the flying of the synchronous fireflies, which are active mid-May to mid-June. During this time, visitors see thousands of fireflies flashing in unison as they search for mates. This is one of the few places you can witness the phenomenon.
2. Spot the famous strand feeding dolphins of Kiawah Island.
South Carolina has miles and miles of sandy shorefront for a beach getaway anytime of the year. Add some wildlife to your next beach trip for a truly special experience.
Strand feeding is a unique behavior where bottlenose dolphins near Charleston herd and catch fish on the shoreline. It has been described as looking similar to planes flying in formation and then turning sharply in unison toward the shore.
"What sets Kiawah's Beachwalker Park apart, is that it is considered one of the most accessible places on earth to observe this unique behavior," Anderson says.
Scientists have observed that two hours before low tide and two hours after low tide are the best times of day to see dolphins strand feeding.
3. Tube though the heart of Columbia on the Congaree River.
For a remarkable way to see the state's capitol, take to the water. Rent kayaks or canoes for a physical challenge or simply float down the river in a tube. During the hot summers, it can be an enjoyable way to explore the city. Experience Columbia offers some tips for getting started.
"You'll glide through rocky rapids and past trees covered in Spanish moss," he says.
4. Hike part of the 350 miles of completed trails of the Palmetto Trail.
There are plenty of trails across the state for an easy or challenging hike. The Palmetto Trail is a good place to get started, with access two hours or less from any part of the state. Once fully completed, it will span from Walhalla in the Blue Ridge Mountains to Awendaw on the Intercoastal Waterway.
"Hike beside lakes, across mountain ridges, through forests, into towns big and small, and across swamps on South Carolina's cross-state trail," Anderson says.
Thanks in part to a new grant from the BlueCross BlueShield of South Carolina Foundation, the trail has increased its accessibility for children. Ten new kids' trails are being created across the state. The first trail opened in June 2020 and is located on the Palmetto Trail along the Peak to Prosperity Passage that begins in Fairfield County. The program is part of a new nationwide network of TRACK Trails aimed at increasing youth hiking.
Find more recommendations on how to get started hiking on our blog.
Milo Anderson (above) and trees at Congaree National Park (below).
5. Discover the purple martins of Lake Murray.
Lake Murray, located near Columbia, can be a playground for exploring nature. You can start at Dreher Island State Park, which spans three islands and offers 12 miles of shoreline access.
Lake Murray is home to one of North America's largest purple martin roosts. During summer evenings, nearly 500,000 purple martins fly to Bomb Island in Lake Murray to rest.
Anderson says you can check out a sunrise or sunset cruise that will give you a front row view of these native birds.
Taking advantage of our natural beauty from the Upstate to the Pee Dee can be good for your health. Studies have shown that being outside has many benefits. For more ideas for exploring South Carolina's natural beauty, read past blog posts.
Go For A Hike, South Carolina

Fall in South Carolina is the perfect time to get outside and go for a hike. From the Lowcountry to the Upstate, there are plenty of trails for an easy or strenuous walk exploring the natural beauty of the state.

Read More
How to Ride Blue Bike SC Safely During the Pandemic

If you want to get outside and explore Columbia but stay safe while social distancing, look no further than Blue Bike SC. The bikeshare program in downtown Columbia has taken precautions to keep riders safe as they explore the city. Here are a few things to know when riding Blue Bike this summer.

Read More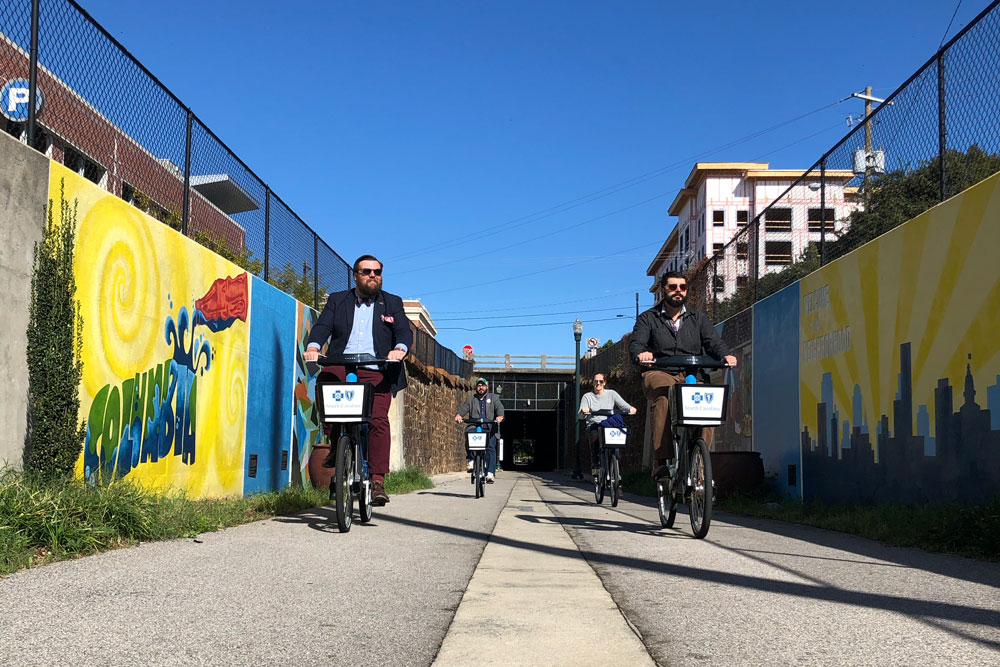 Get Outside — Even During Winter

Getting outside to take advantage of South Carolina's natural resources is a good idea — even during the winter months. Here are a few ways you can get out and explore our beautiful state without looking very far — or spending a lot of money.

Read More