How to Ride Blue Bike SC Safely During the Pandemic
If you want to get outside and explore Columbia but stay safe while social distancing, look no further than Blue Bike SC. The bikeshare program in downtown Columbia has taken precautions to keep riders safe as they explore the city.
"Riding Blue Bike right now is no more dangerous than anything else you would do in public," says Krista Hampton, who works with planning and development services for the city of Columbia.
Here are a few things to know when riding Blue Bike this summer.
Cleaning protocols
Each station, as well as the bikes and kiosks, have been disinfected. Workers doing this will wear masks and gloves during each station visit, says Eshana Young-Pierre, who works in community outreach and business development with Blue Bike SC.
"We recommend users do their part, too," she says. "Wash your hands properly and disinfect the bikes, screens and pin pads before and after your use."
When out on a Blue Bike adventure, make sure you practice proper social distancing by staying at least 6 feet away from others.
Wear a mask
The safest thing you can do when outside your home right now is wear a face mask. Be sure it covers your mouth and nose.
The City of Columbia's mask ordinance requires people to wear masks in public. However, using the Blue Bike SC system falls under outdoor exercise, so users are not required to wear masks, as long as a distance of 6 feet is kept between the rider and anyone who is not a part of his or her household. This holds true unless the bike user is attending an outdoor event that requires attendees to wear masks.
Blue Bike SC also recommends that riders wear them when riding the bikes, though. While you may be riding a bike, there's still a good chance you will be around other people when you get off. Wearing the mask protects you and others.
For more about cloth masks, visit the Centers for Disease Control (CDC) and Prevention's* website.
When you are out in public, follow guidelines from the CDC and the South Carolina Department of Health and Environmental Control*. You can find more tips for safely getting out during the pandemic here.
Why take a ride?
Taking a Blue Bike might also be safer than other alternatives in preventing the spread of the coronavirus. Taking a Blue Bike may be safer than riding on bus, for example.
"We want users to have a safe and healthy ride and feel assured that Blue Bike is still a safe way to get around Columbia," Young-Pierre says. "It is a safe way to decrease exposure as it is one of four public transit options in the city."
Don't overlook the health benefits of riding a bike. During this time of high stress and anxiety, getting outside to take a leisurely ride through downtown could ease some tension.
"More people are getting creative with their recreation. Taking a Blue Bike is more than getting from point A to point B," says Young-Pierre.
Riding Blue Bike could improve the city as well. As more people use the program and get cars off the streets, it can help transform the capital city into a more pedestrian-friendly city.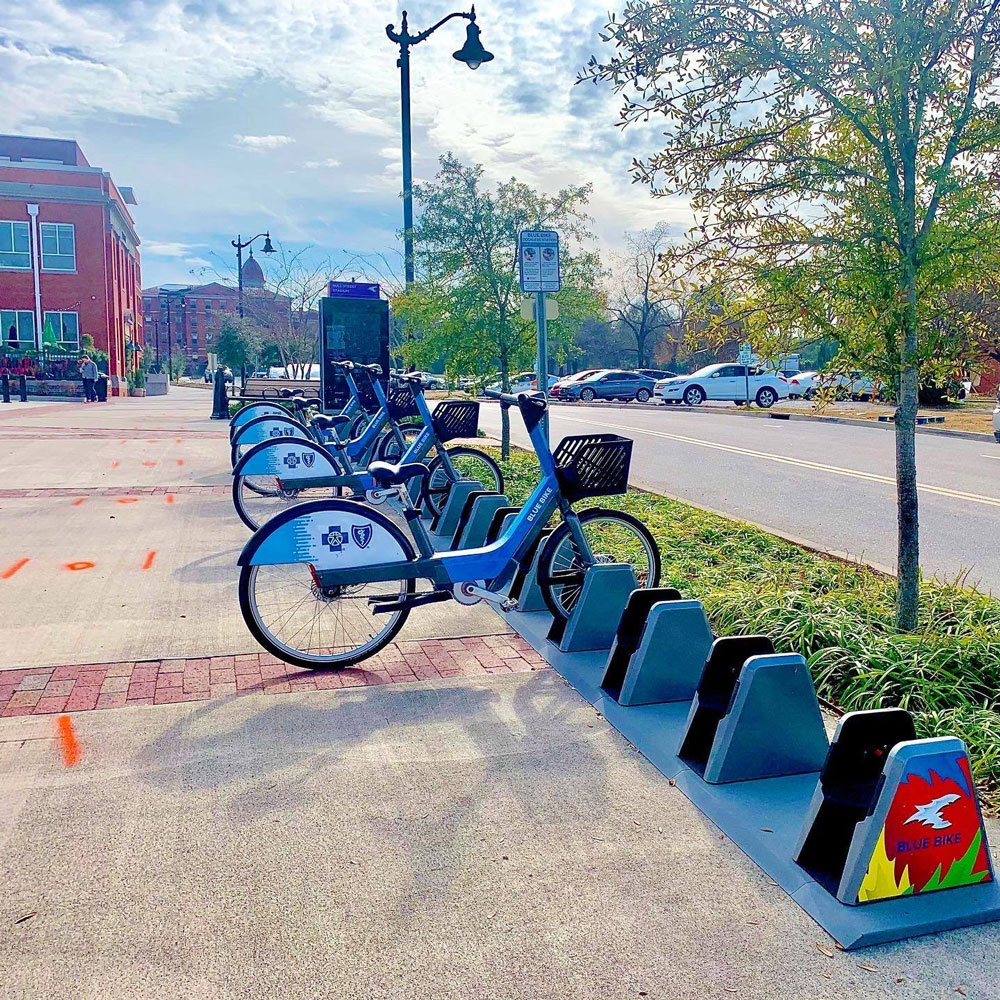 Keep in the know
If we have learned anything in the last few months, it is that things can change rapidly. Stay up to date with what is going on with Blue Bike SC by following the program on social media and signing up for the email newsletter.
If anything were to change with protocols or requirements for riding Blue Bike, those updates would be posted on the social media channels, in the Official Blue Bike SC mobile app and in the newsletter.
Young-Pierre also recommends checking the app to make sure there are bikes available before you head out.
Where to take a ride?
The most popular station for Blue Bike is Riverfront Park. There are other routes you can take, though, to avoid crowds and get a good ride. For example, pick up a bike in Five Points and take it for a ride down the oak-lined roads of Old Shandon, or up to the University of South Carolina campus for a ride around the historic Horseshoe.
For more ideas for fun rides, check out Colatown Bike Collective's Sprocket, which has ideas for rides all over the city.
Wherever you ride, don't forget to follow the rules of the road, wear a helmet and stay safe.
*The Centers for Disease Control and Prevention and the South Carolina Department of Health and Environmental Control are independent organizations that provide health information you may find helpful.
What to Consider When Traveling This Summer

With summer in full swing, many South Carolinians may be thinking about traveling for vacation. The number of coronavirus cases continues to rise, so it is important to make sure you are following guidelines from your community and government entities. Here are a few things to take into account when deciding how and where to travel this summer.

Read More
How to Get Outside While Social Distancing

Many South Carolinians have spent the last few weeks at home practicing social distancing recommendations. As the weather gets nicer and warmer, people may be thinking about how to get outside to explore our state safely. Here are a few things to think about when planning how to explore South Carolina safely.

Read More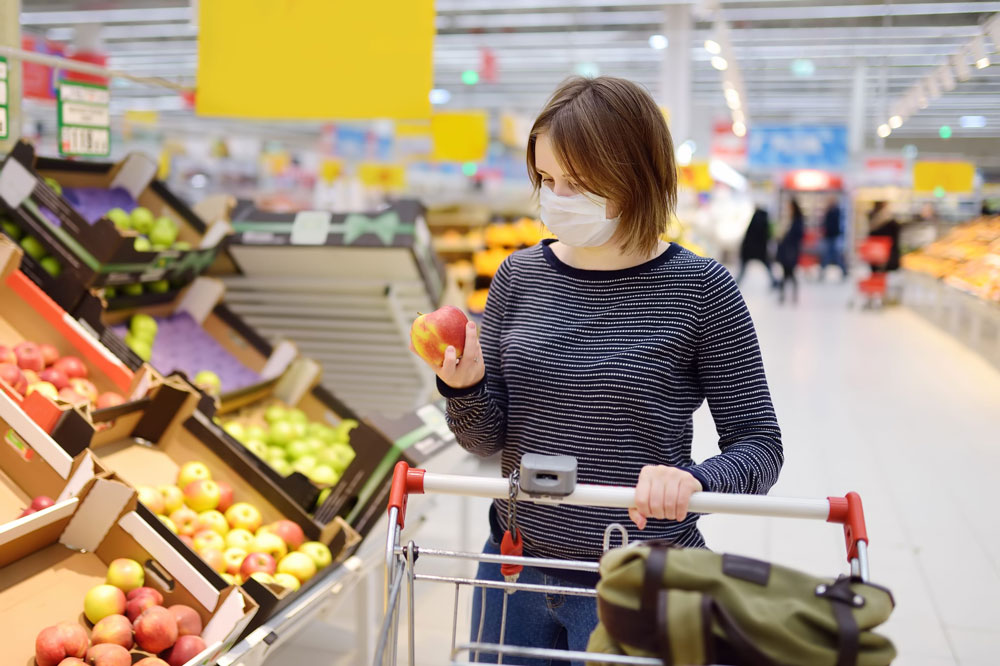 Safety Tips for Getting Out During Re-Opening

At some point in the past couple of months you've probably searched online for answers to all kinds of questions about what is or is not safe during the pandemic. As South Carolina moves to re-open many businesses, BlueCross pulled together some resources to help South Carolinians determine what is best for their families.

Read More