Over the past year, we have heard many stories of individuals and companies that have endured and overcome unexpected hardships. We are especially inspired by those of you who have stuck with your commitment to the well-being of your employees and continue to provide resources to support physical, mental, emotional and financial health.
After reviewing many impressive applications, we finally narrowed down our selections to organizations we felt went above and beyond in caring for the health of their employees this past year. We want to recognize and appreciate the effort and creativity that went into implementing these programs that support happier and healthier lives.
Charleston Region Winner: Sonepar Management
For nearly a decade, Sonepar Management has impressed us with their focus on a healthy workplace. Company leaders have worked to strategically build and adapt their wellness programs as their employee needs have changed. When COVID-19 struck, they were able to effectively pivot and keep their employees engaged. They obtain employee feedback, address specific health concerns and review multiple sources of data to shape program offerings and impact policy changes.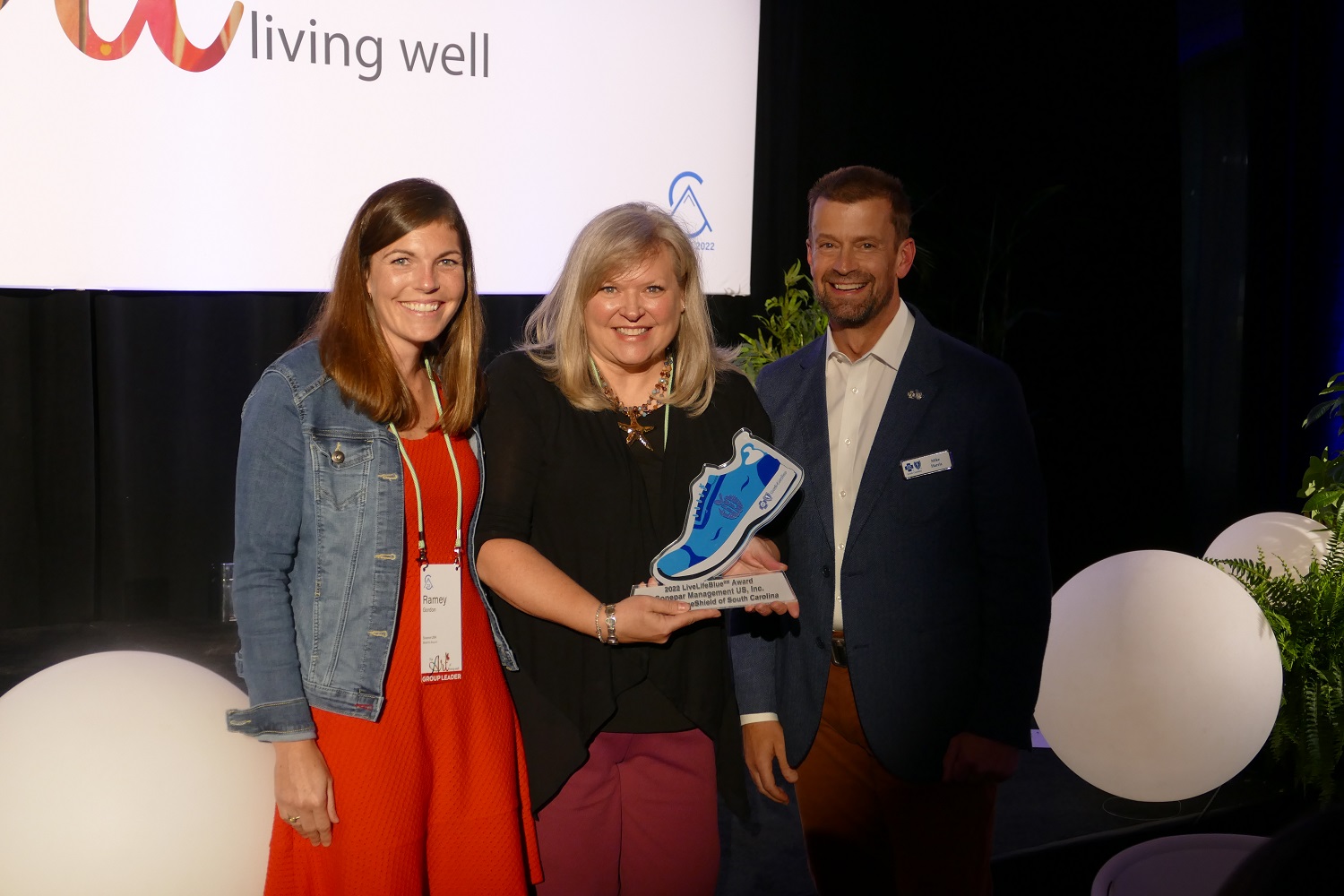 Sonepar's offerings and outreach include:
A newly launched companywide informational portal that provides access to all health and wellness activities.
Remote working options and COVID-19 protocol for on-site workers.
Weekly health-focused events promoted through multiple channels of communication.
Live and virtual yoga classes.
On-site gym access and on-demand nutrition courses.
A wellness incentive program that offers reduction in deductibles or HRA deposits.
Reimbursement programs for smoking cessation and weight loss.
This company takes the health and well-being of their employees seriously. This commitment extends to employees' families, with offerings like the "Baby Blanket Program." It provides new parents with a company embroidered blanket, plus resources to help them update coverage and benefit details and get the support they need.
Greenville Region Winner: Suminoe Textile of America
Suminoe Textile of America has taken a hands-on approach to all things wellness. Although COVID-19 hindered their traditional production routine, they were able to remain open with added COVID-19 protocol procedures. This allowed them to focus on boosting morale and building their employee wellness offerings. One strategic pivot included partnering with a certified personal trainer to share specific exercises with employees to help prevent injury, reduce pain and improve their efficiency in executing work-related tasks.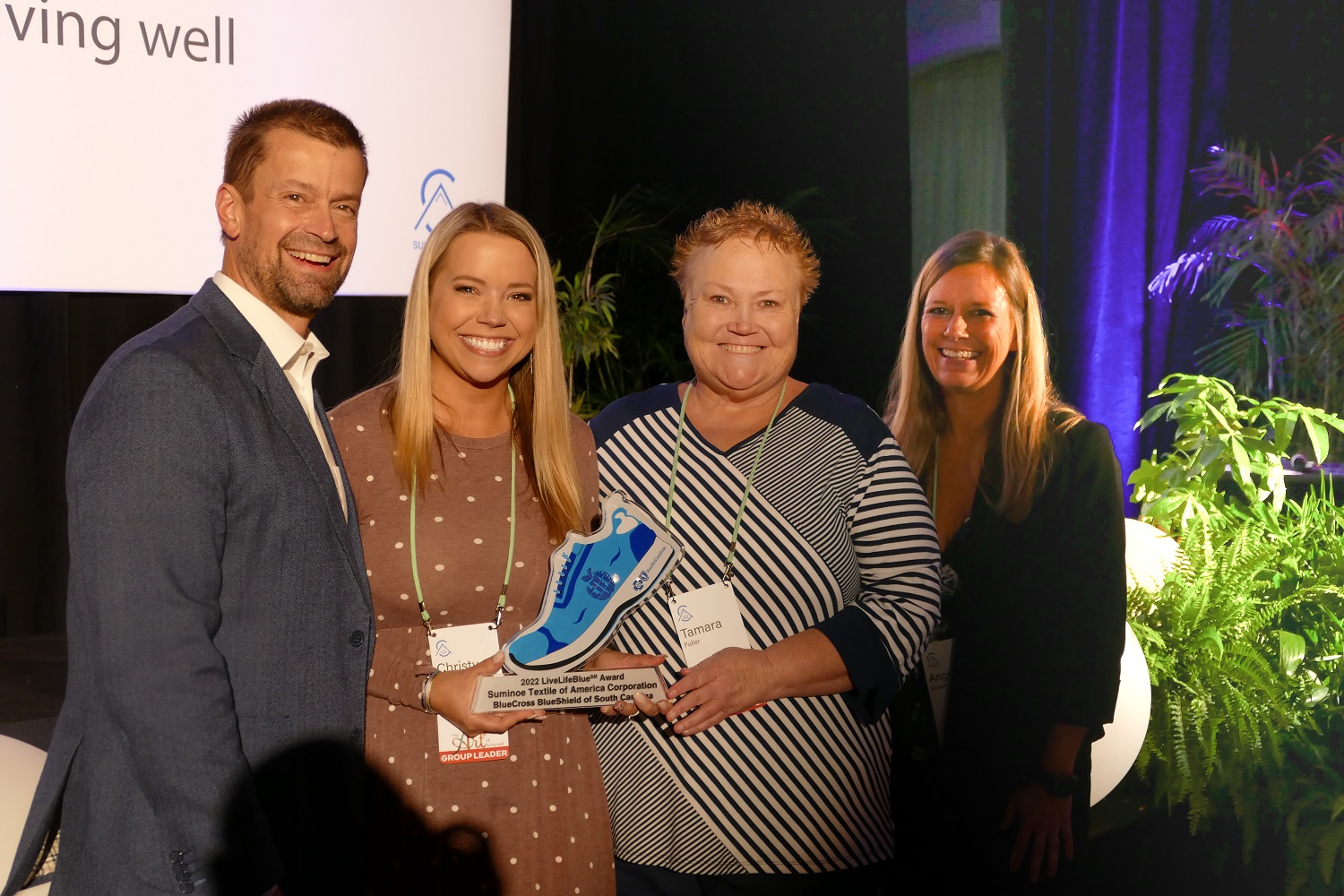 A few of Suminoe's offerings and outreach are:
Health hub shareables and awareness campaigns.
Healthy canteen vending options.
On-site cancer screenings.
On-site eye and dental exams.
On-site flu shots and COVID-19 vaccines/boosters.
Monthly education and physical fitness challenges.
On-site chiropractic and massage services.
Collaboration with the safety department to offer exercise videos.
The "know your numbers" health fair.
Stress management support through their employee assistance program (EAP).
Employees have benefited from heavy human resources (HR) involvement in the development of offerings over the last two years. Suminoe has made healthy options easily accessible, which has been key for engagement. Positive employee feedback confirms that they are on the right track.
Midlands Region Winner: South Carolina Federal Credit Union
Each year, we are privileged to help support South Carolina Federal Credit Union's efforts to make it easier and more exciting for employees to access the latest tools and resources. They have a broad wellness program offering that touches all aspects of well-being.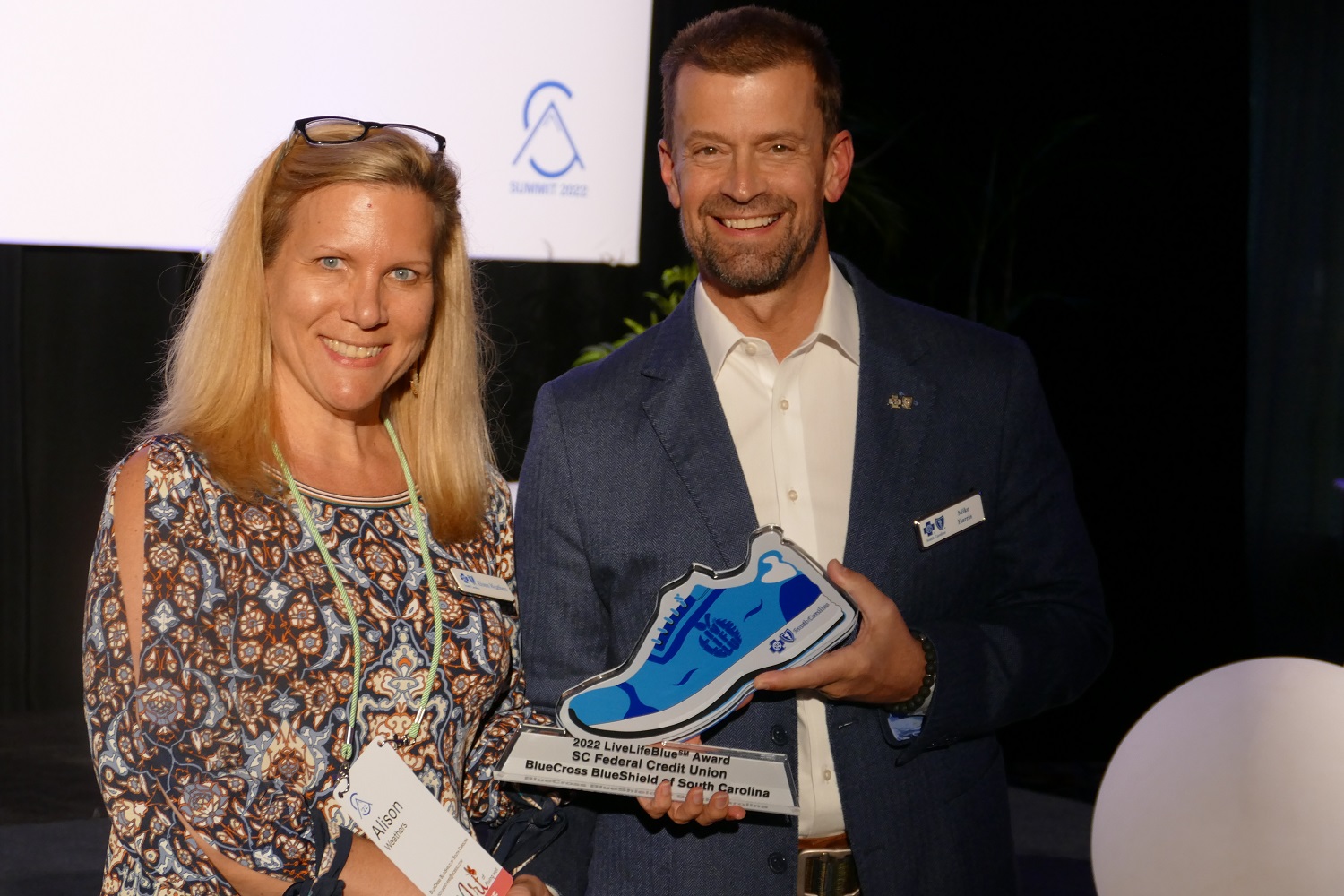 S.C. Federal Credit Union's offerings and outreach include:
Ongoing wellness challenges ("Beat the Chief") and group walks/runs.
An on-site gym and fitness reimbursement program.
A loan program to help employees purchase at-home gym equipment.
Monthly on-site chiropractic services.
Cooking classes led by a registered dietician and nutrition communications.
A 52-week savings challenge (shows savings of over $200,000).
EAP learning lessons for stress management and related topics.
Leadership boosts engagement by rewarding participants with things like sneakers and workout gear to support healthy activity. They also reward employees with PTO for getting an annual checkup. This company not only takes care of its employees but gives back to the community through its foundation, which lets employees give to local nonprofits and volunteer to positively impact those around them.
Overall Winner: FN America
For 2022, BlueCross BlueShield of South Carolina recognizes FN America as the overall winner of the LiveLifeBlue Awards. FN America is a great example of what it means to partner with BlueCross. They take advantage of many of our products and put them to great use. One of the things that stands out about FN is the data they use to track progress and how they use that information in their overall wellness strategy.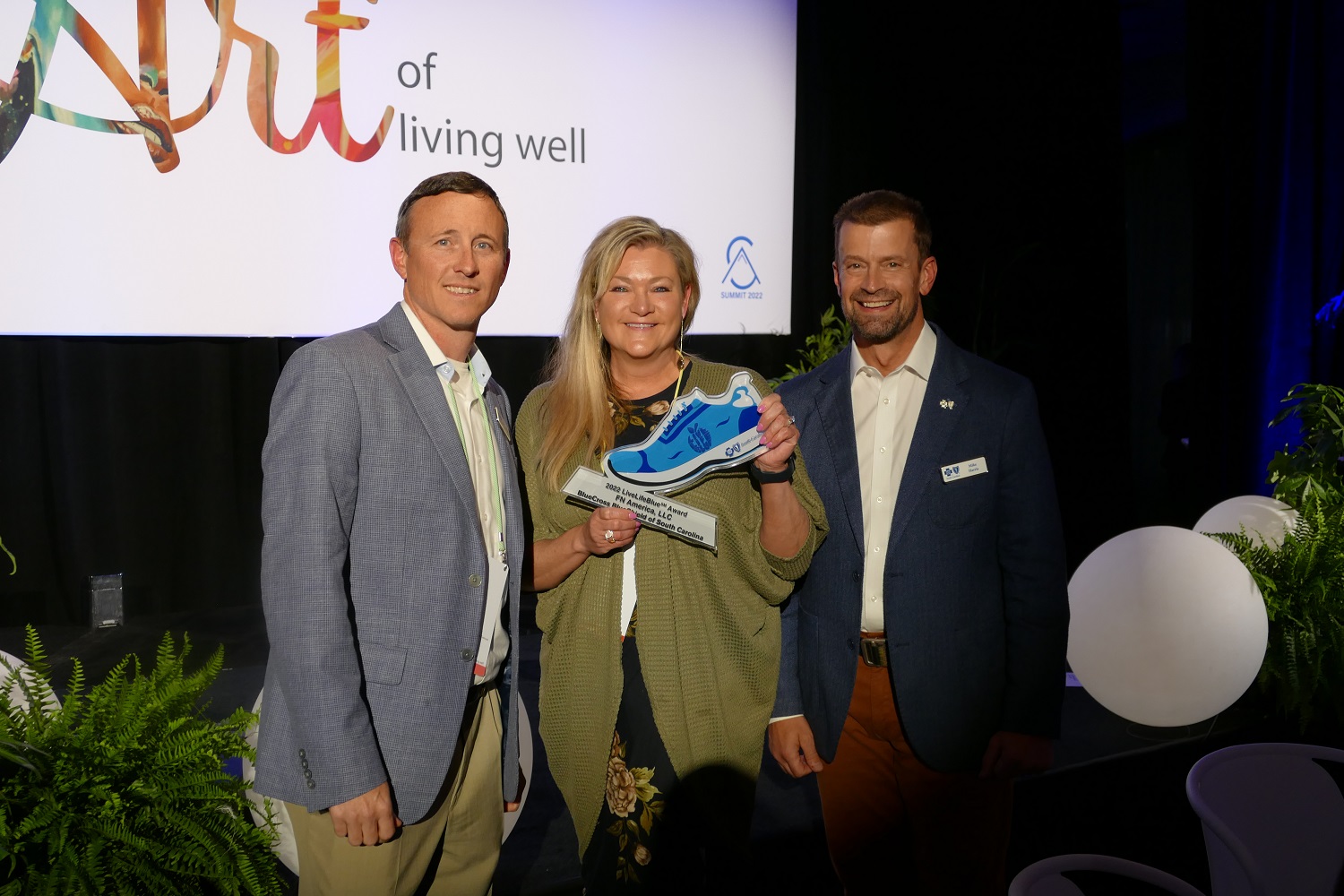 FN's offerings and outreach include:
Partnering with the on-site health and wellness center to triage employees to resources and health coaching as needed.
Using our well-being platform and administering quarterly private challenges with rewards valued over $5,000.
Monthly Lunch & Learn webinars using Health Hub content (includes a free healthy lunch for participants).
An on-site cafeteria with a chef and healthy options.
Free on-site mental health visits.
Free generic medication.
Free child care.
Hybrid work schedules in response to COVID-19.
Offering a $100 reduction on insurance premiums for being nicotine free.
FN believes that healthy families make for happy employees. The company allows spouses and dependents to participate in health and fitness challenges and includes covered spouses in the $100 nicotine rebate. There has been a reduction in the total number of employees with serious medical conditions like high cholesterol, diabetes and obesity. They plan to add on-site yoga and massage therapy, a coed sports league and an annual wellness fair when it is deemed safe to do so.
Congratulations on your progress, and we are excited for the continued positive impact on your employees!

The 2022 Live Life Blue award winners were recognized for their outstanding programs during the Major Group Summit this year. After receiving their awards, they were invited to participate in a panel discussion and answered questions from fellow employers about program implementation ideas, engagement advice, logistics and much more. Ink Factory was at the Summit to capture their ideas and assemble them into a stunning visual note board.
Learn more
about how groups can apply for this award.