12 Ways BlueCross Gave Back This Year
BlueCross BlueShield of South Carolina knows the importance of leading by example. All year, the company and its employees give to the communities they serve.
"BlueCross' tradition of helping the most vulnerable remains a key part of the company's DNA. Our employees are committed with generous gifts of their time and monetary donations to nonprofits across the state," says Elizabeth Nkuo Johnson, director of community relations at BlueCross.
This year, BlueCross employees gave $2,523,118. They served almost 20,000 hours. Here are a few ways the company gave back to South Carolinians.
Serving all day
In April, BlueCross hosted its second annual Day of Service after a two-year break because of the COVID-19 pandemic. Employees spent a Saturday volunteering in the community at 14 different nonprofits across the state.
Employees helped sort food for Harvest Hope Food Bank. They built a wheelchair ramp with Home Works of America. They worked with Keeping the Midlands Beautiful and Serve & Connect. Others spent the day helping at community events hosted by the National MS Society, Governor's Cup, Historic Columbia and others.
"Day of Service gives our employees an opportunity to come together with a unified voice and effort to volunteer," says Nkuo Johnson.
Supporting HBCUs
In 2020, BlueCross made helped the state's six private, four-year, historically Black colleges and universities (HBCUs).
In Denmark, South Carolina, Voorhees College added graduate programs and became a university.
Allen University in downtown Columbia restored the historic Good Samaritan-Waverly Hospital. The hospital offered medical care to Black Americans during the Jim Crow era. Now it will house memorials, the new School of Education and an institute on civility.
To continue the support, the company created the BlueScholars program. The program partners with Benedict College and Claflin University.
Four students from each institution were selected for a scholarship that covers tuition, room and board. Selected students have the chance to attend career-focused workshops and BlueCross internship programs.
"The BlueScholars program creates a pathway for students to hold leadership roles within our company after graduation. We are committed to supporting their educational pursuits and their place as future leaders in our workforce," says BlueCross President and CEO Mike Mizeur.
Confronting the nurse shortage
America is facing a growing lack of nurses. In South Carolina, all counties need more nurses. To help address the crisis, the BlueCross BlueShield of South Carolina Foundation awarded a grant to the University of South Carolina and the University of South Carolina Upstate Colleges of Nursing.
The grant will help create the Nursing Faculty Fellows Pipeline Program. The program offers mentorship, and teaching and research education for nursing students. It will increase graduates' ability to become future faculty.
"The number of qualified nurse faculty candidates has limited the ability of nursing schools in South Carolina to grow. We will add to the number of nurses in our state by supporting our nursing teachers," says Erika Kirby, executive director of the Foundation.
Filling food banks
Year after year, BlueCross supports food banks across the state. This year, employees gathered donations for Harvest Hope Food Bank, Golden Harvest Food Bank and Lowcountry Food Bank. Overall, they gave enough to supply 17,000 meals to South Carolinians.
Even the company's interns helped out. Since 2005, BlueCross employees have donated more than 625,000 meals to battle food insecurity in our state.
Opening Unity Park
Earlier this year, Unity Park in Greenville, South Carolina, became a reality. BlueCross and other groups in the state helped the effort.
The 60-acre park has playgrounds, large green spaces and walking trails. City officials say the park is a symbol of the city's focus on recreation, mobility, open space, sustainability, economic development and public safety.
Giving locally
Each year, BlueCross participates in Midlands Gives. It is an 18-hour giving event that shines a light on local nonprofits. The Central Carolina Community Foundation hosts the event.
This year, BlueCross awarded eight prizes to local nonprofits. The donation totaled $8,000. BlueCross employees donated $41,423 this year. This was the largest amount donated by employees from a single company.
In total, the event raised a $3.73 million for 540 different nonprofits across the Midlands.
Helping sea turtles
Three sea turtles returned home to the Atlantic Ocean earlier this year. The turtles were rescued and cared for at the South Carolina Aquarium's Sea Turtle Care Center.
BlueCross is a proud supporter of the South Carolina Aquarium. It teaches residents to take care of the environment. In 2015, the aquarium grew its Sea Turtle Care Center. The center is a hospital and guest experience. It offers an exhibit for guests to learn about the process of caring for sea turtles.
Tackling youth mental health
Teens and young adults in South Carolina are facing a crisis with mental health. Five state organizations received Adolescent Mental Health Catalyst grants this year from the Foundation to invest in new programs that focus on the mental health and well-being of young people, including:
Carolina Youth Development Center
Communities in Schools of South Carolina
Healthy Learners
South Carolina Department of Mental Health
University of South Carolina Institute for Families in Society
"Suicide is a leading cause of death for people ages 10 to 24 in South Carolina. These grantees are excited to work together to improve teen mental health. Already we have seen new connections formed among these grantees," says Bree Bess, program officer with the Foundation.
Increasing mental health access
The Foundation continued its pledge to make mental health tools in the state better this year with a grant to help launch the 988 lifeline.
The National Suicide Prevention Lifeline launched the 988 service in July. This created a 24/7 dialing code for people with thoughts of suicide or self-harm. The 988 lifeline directs mental health-related emergency calls away from 911. It limits needless emergency department or hospital visits for people in crisis.
Mental Health America of Greenville County (MHAGC) handles the majority of 988 lifeline calls for the state.
Combating teen suicide
Teenagers are attempting suicide at high rates. That's why the Foundation supported the National Alliance on Mental Illness' (NAMI) work to prevent teen suicide.
In June 2019 and June 2022, the Foundation helped fund Ending the Silence (ETS). The national program was launched by NAMI in 2013. It teaches students, school staff and families about mental health and suicide prevention. Last year, ETS reached more than 36,000 South Carolinians.
"NAMI and ETS have done such important work in the field of youth mental health. Even in a pandemic, NAMI has grown its reach to teach more children about mental health," says Bree Bess, program officer with the Foundation.
Riding for a cause
BlueCross employee Marie McLean-Choi biked 252 miles across South Carolina in July. The three-day ride from Simpsonville to Charleston was inspired by her father-in-law, Joe Choi, who passed 10 years ago. McLean-Choi biked as part of the Ride To End ALZ.
There are more than 6 million Americans living with Alzheimer's disease. About 11 million friends and family members provide them with care. No one has survived the disease. Health experts are closer than ever to finding a cure.
"BlueCross was honored to focus its July employee fundraising campaign on the challenges of Alzheimer's. This disease affects so many lives every day. It is important to support the Alzheimer's Association in hopes that we will one day have a cure," says Nkuo Johnson.
Addressing diabetes in South Carolina
More than half of all adults in South Carolina have diabetes or prediabetes. Diabetes Free SC (DFSC), in partnership with the Foundation, is working to prevent diabetes and its complications across the state. This year, DFSC grew its efforts with new funded programs.
DFSC is addressing gaps in access to health care. Programs like Grocery Rx, Veggie Rx and Food Is Medicine South Carolina help increase access to healthy foods.
The growth of the Kids in Parks program is helping children in South Carolina be active outdoors. The School Gardening for South Carolina program also focuses on children. This initiative gives teachers the tools they need to create school gardens to teach students about nutrition.
The Women's Health Initiative aims to reduce disparities that limit access to health care. The initiative promotes wellness among women who have or who are at risk of developing diabetes.
"We know the inequities we're facing in our state are not limited to just diabetes and related health outcomes but are prevalent in all of the ways that our environment, systems and opportunities impact our health. That is why it is so critical to approach our work in an innovative and equity-centered way. The roots to this are deep and wide, and they affect the ability of all South Carolinians, especially communities of color, to have an opportunity for a healthy life," says DFSC Program Director Noreen O'Donnell.
The BlueCross BlueShield of South Carolina Foundation is an independent licensee of the Blue Cross Blue Shield Association.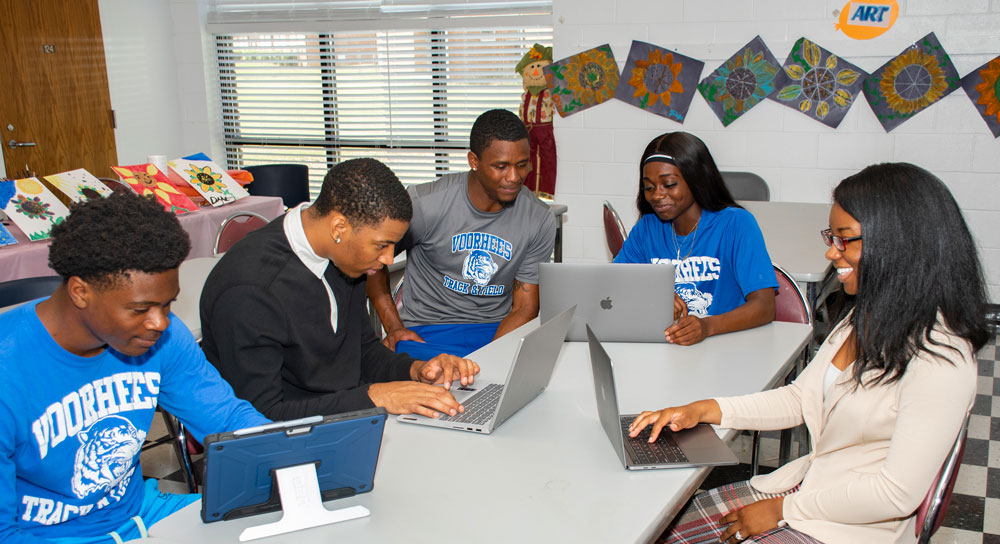 5 Questions With Voorhees University

In 2020 BlueCross made a commitment to the state's six private, four-year historically Black colleges and universities. Voorhees College in Denmark recently added graduate programs and became a university. The head of the college's advancement office shares how the school is changing.

Read More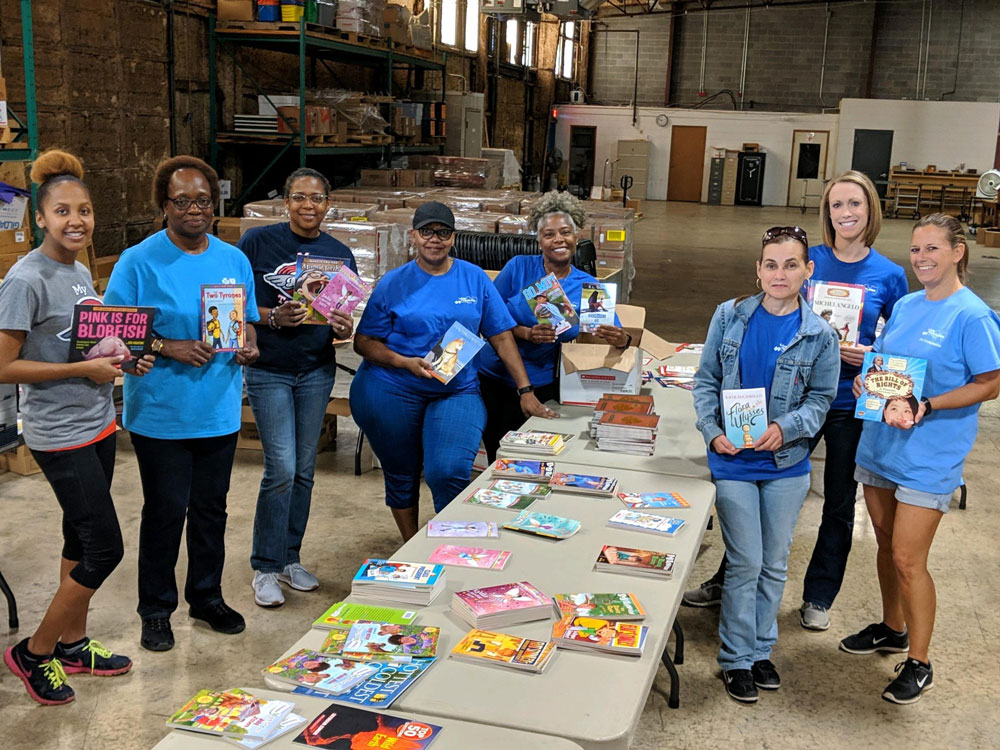 BlueCross Employees To Give Back on Day of Service

In 2019, BlueCross BlueShield of South Carolina hosted its first Day of Service for employees. BlueCross suspended the program the next two years due to COVID-19, but this year, the company is excited to bring the program back. BlueCross' community relations director discusses the program.

Read More
Preserving History, Building a Better Future

Allen University's Waverly Project will give the historic Good Samaritan-Waverly Hospital in downtown Columbia a new place in our modern community. The building was home to the city's only medical care for Black South Carolinians during the Jim Crow era. University President Dr. Ernest McNealey talks to us about the project.

Read More